Bon appétit ! Yum-yum!
Pork Pie Hat
Do you know that speciality : the pork-pie? We don't think we can be of a big help for allowing you to taste what would be a third-type meeting between a "pâté en croûte" and some "vol-au-vent". Anyway, our pork pies don't have anything to do with all those French or British specialities other than their short crown and their flat and round top, similar to a cake.
Read more ...
A porkpie for men or women
But going as far as to eat your hat, there's only one step! But you risk blue, red, or beige felt poisoning, or even choking yourself by its peacock feathers. Besides, even amid those who made it popular in the 60s -- fans of jazz, blues or ska-- no hat feast story has been told...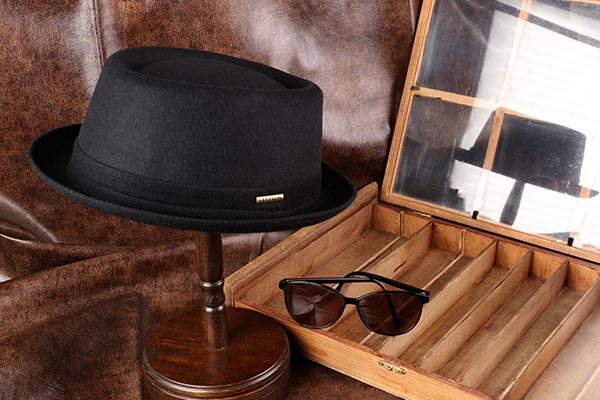 Stetson Porkpie Hat, Bailey, Marky...
The porkpie is similar to a boater with a low and flat crown, but it has shorter and raised brims. For some people, this flat and slightly high hat is gladly worn tilted on the back of the head: in this case, we recommend you pick the size down for a better bearing. This headgear took its English name from its similarity with a traditional Anglo-Saxon recipe: the pork pie. Enjoying a big success in the 1930s and 1940s, the porkpie comes back into fashion thanks to the series, Breaking Bad, and to its main character Walter White who wears one in every episode. A feminine accessory at the beginning, men appropriated it slowly over time. Today, the trend is becoming reversed and men and women wear it for a quirky chic and hipster look. On the music scene as well, and particularly in jazz and blues world, several musicians wear this hat in order to adopt a relaxed look. The principal hat makers have all a rich collection of this trendy shape: Stetson, Bailey of Hollywood, Marky and many other models will know how to seduce you with their timeless or more contemporary shapes. So treat yourself with our range of trendy and modern Porkpie.
Pork Pie Hat